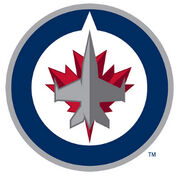 The
Winnipeg Jets
are a professional ice hockey team, based in Winnipeg, Manitoba, Canada. They are members of the Southeast Division of the Eastern Conference of the
National Hockey League
(NHL). The current team began as the
Atlanta Thrashers
in 1999 and was purchased by True North Sports and Entertainment in 2011. With approval by the NHL Board of Governors, the team was relocated to Winnipeg prior to the 2011–12 NHL season. Following the move, the team adopted the name of Winnipeg's original WHA/NHL team, which became the
Phoenix Coyotes
in 1996.
Official Winnipeg Jets Website: http://jets.nhl.com/
For more information on this NHL team visit its Wikipedia page: http://en.wikipedia.org/wiki/Winnipeg_Jets
Ad blocker interference detected!
Wikia is a free-to-use site that makes money from advertising. We have a modified experience for viewers using ad blockers

Wikia is not accessible if you've made further modifications. Remove the custom ad blocker rule(s) and the page will load as expected.