Garry Noel Price (born December 9, 1935, in Brockville, Ontario) is a retired Canadian ice hockey defenceman.
Price started his National Hockey League career with the Toronto Maple Leafs in 1958. He would also play for the New York Rangers, Detroit Red Wings, Montreal Canadiens, Los Angeles Kings, Pittsburgh Penguins and Atlanta Flames. He would retire after the 1976 season. He would win one Stanley Cup with Montreal in 1966.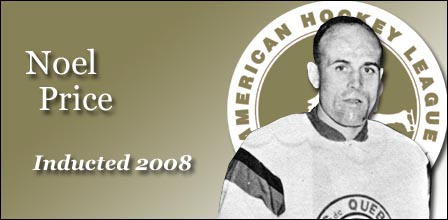 thumb|400px|right| AHL Hall of Fame induction video for Noel Price, Class of 2008.
Awards & Achievements
Edit
WHL Prairie Division Second All-Star Team (1957)
AHL Second All-Star Team (1966)
AHL First All-Star Team (1970, 1972, & 1976)
Eddie Shore Award (AHL) Outstanding Defenceman (1970, 1972, & 1976)
Played in NHL All-Star Game (1967)
Ad blocker interference detected!
Wikia is a free-to-use site that makes money from advertising. We have a modified experience for viewers using ad blockers

Wikia is not accessible if you've made further modifications. Remove the custom ad blocker rule(s) and the page will load as expected.