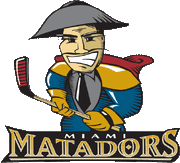 The Miami Matadors were an ice hockey team in the East Coast Hockey League. They played in Miami, Florida, USA at the Miami Arena for one season before folding. The Matadors franchise would resurface several years later as the Cincinnati Cyclones.
For more information on this former ECHL team visit its Wikipedia article: http://en.wikipedia.org/wiki/Miami_Matadors
Ad blocker interference detected!
Wikia is a free-to-use site that makes money from advertising. We have a modified experience for viewers using ad blockers

Wikia is not accessible if you've made further modifications. Remove the custom ad blocker rule(s) and the page will load as expected.