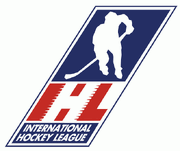 The
International Hockey League
(IHL) was a minor professional ice hockey league in the United States and Canada that operated from 1945 to 2001. The International Hockey League served as the
National Hockey League
's alternate farm system to the American Hockey League (AHL). After 56 years of operation with financial instability, the International Hockey League ceased operations after the 2000-01 season. Six teams from the IHL merged into the rival American Hockey League as expansion teams in2001. The IHL did not merge into the AHL.
List of other International Hockey Leagues
Wikipedia Article: http://en.wikipedia.org/wiki/International_Hockey_League_%281945%E2%80%932001%29
Ad blocker interference detected!
Wikia is a free-to-use site that makes money from advertising. We have a modified experience for viewers using ad blockers

Wikia is not accessible if you've made further modifications. Remove the custom ad blocker rule(s) and the page will load as expected.