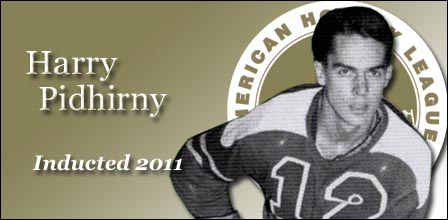 Harry Pidhirny (March 5, 1928–December 20, 2010) was a Canadian professional ice hockey player. Pidhirny played only two games during the 1957–58 NHL season for the Boston Bruins, but was a top scorer in the minors, and juniors. In addition to the Bruins, Pidhirny also played for the Springfield Indians, Syracuse Warriors, San Francisco Seals, Providence Reds, Baltimore Clippers, and Muskegon Mohawks.thumb|400px|right|AHL Hall of Fame induction video for Harry Pidhirny, Class of 2011.
Ad blocker interference detected!
Wikia is a free-to-use site that makes money from advertising. We have a modified experience for viewers using ad blockers

Wikia is not accessible if you've made further modifications. Remove the custom ad blocker rule(s) and the page will load as expected.