Fredrick Austin "Fred" Glover (born January 5 1928 in Toronto, Ontario – August 16, 2001) was a former NHL player and coach. He was the brother of Howie Glover, who also played in the NHL.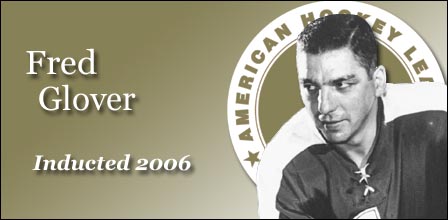 thumb|400px|right| AHL Hall of Fame induction video for Fred Glover, Class of 2006.
Coaching Career
Edit
Fred Glover was the head coach of the following:
Cleveland Barons of the AHL from 1963–1968 (Winning the Calder Cup Championship in 1964).
Oakland Seals of the NHL from 1968-1970.
California Golden Seals of the NHL from 1970-1972.
Los Angeles Kings of the NHL from 1971–72.
California Golden Seals of the NHL from 1972-1974.
Awards and Achievements
Edit
Ad blocker interference detected!
Wikia is a free-to-use site that makes money from advertising. We have a modified experience for viewers using ad blockers

Wikia is not accessible if you've made further modifications. Remove the custom ad blocker rule(s) and the page will load as expected.