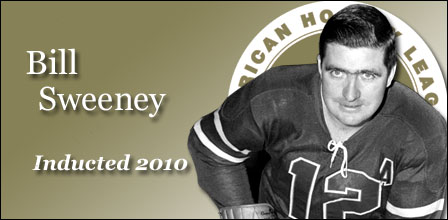 Bill Sweeney (born January 30, 1937 in Guelph, Ontario) , was a Canadian professional ice hockey player. Sweeney played only four games during the 1959–60 NHL season for the New York Rangers, but was a top scorer in the minors, and juniors.
Sweeney led the OHA in scoring while playing for the Guelph Biltmore Mad Hatters in 1956–57, then followed that up winning the 1957–58 AHL rookie of the year award playing for the Providence Reds. Sweeney later won three consecutive Calder Cup championships with the Springfield Indians, also leading the league in scoring three consecutive seasons. Sweeney later played for the Vancouver Canucks in the Western Hockey League during 1967–68.thumb|right|400px|AHL Hall of Fame induction video for Bill Sweeney, Class of 2010.
Ad blocker interference detected!
Wikia is a free-to-use site that makes money from advertising. We have a modified experience for viewers using ad blockers

Wikia is not accessible if you've made further modifications. Remove the custom ad blocker rule(s) and the page will load as expected.